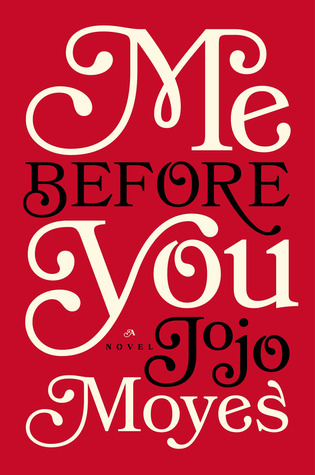 Me Before You by JoJo Moyes was probably one of my random favorites so far this year, I obviously wanted to read it because of the movie trailer, which by the way I haven't seen yet but now I'm afraid that seeing the movie will ruin this book for me so I've been hesitant. Okay, so the novel is about two young people with two very different lives. Will had everything, a high end job, a family with money, any woman and adventure that he could want. Lou didn't have everything. She had a family that lived paycheck by paycheck, she worked to help get them through while helping to take care of her sister and her sisters young child. However, everything changes when Will is a an accident that leaves him unable to move, while months later Lou loses her job and is in search of another one. This is where their lives become one.
Think about your life, whether you think its the best or not, but what happens when you wake up and your life has changed so drastically that you don't know what to do? This is how Will feels throughout the book, he cannot move forward with a life that he has. I think the descriptions of how Will felt was done so well that you could feel his pain. So when Lou goes to work for Will to be his caretaker, she tries everything she can to make his life more than what he believes it will be. will it work? Will what she can offer save him from his depression and bring him back toward a reality worth living?
This one is a tear jerker. I wasn't sure if I would cry but Jojo's character are brought to life enough where I couldn't help it. Some people (if you click on the picture) will say they didn't like the characters. But I thought the characters were real, maybe a little immature at times but they are young, in their 20s and though have lived very different experiences doesn't mean they can't still have times when they are immature. Me Before You made me want to read others by Jojo Moyes, she has a sequel to this one and another new one coming out this fall- that one is definitely on my list to read!