Author: Sarah J. Maas
Throne of Glass Series
Contains 5 Novellas
Goodreads Synopsis: Celaena Sardothien is Adarlan's most feared assassin. As part of the Assassin's Guild, her allegiance is to her master, Arobynn Hamel, yet Celaena listens to no one and trusts only her fellow killer-for-hire, Sam. In these action-packed novellas – together in one edition for the first time – Celaena embarks on five daring missions. They take her from remote islands to hostile deserts, where she fights to liberate slaves and seeks to avenge the tyrannous. But she is acting against Arobynn's orders and could suffer an unimaginable punishment for such treachery. Will Celaena ever be truly free? Explore the dark underworld of this kick-ass heroine to find out.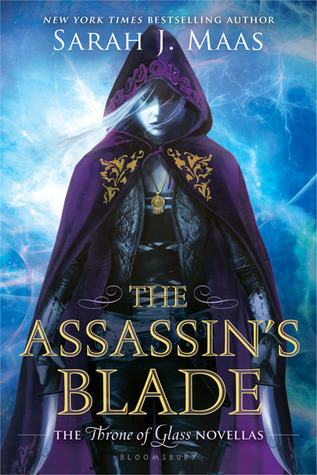 Review:
To start, I would like to acknowledge that I wasn't aware this would be five novellas. So when I started reading and saw how long this story was going to be I was a little disappointed (I was looking for a really quick story to get me in the reading mood). Anyway, this was good but it wasn't great. I loved Sam, and once again it just reiterates to me that of all of Celeana's love interests, Rowan is my least favorite. I also did enjoy seeing her life before everything happened and what made her tick as an assassin and a person. But I have to admit, some of the stories, I was kind of like, what? why? I'm not sure I get the purpose in this one even after reading everything.

I want to point out that I read this story last in the whole Throne of Glass series and I have to admit I really liked doing that. Partly because I don't think I would have felt some of the surprises and emotions in the story if I had remembered some of the characters from The Assassin's Blade.
Overall Rating: 3/5 stars