Author: Sarah J Maas
Throne of Glass Series
Pages: 992
Goodreads Synopsis: Aelin has risked everything to save her people―but at a tremendous cost. Locked within an iron coffin by the Queen of the Fae, Aelin must draw upon her fiery will as she endures months of torture. Aware that yielding to Maeve will doom those she loves keeps her from breaking, though her resolve begins to unravel with each passing day…

With Aelin captured, Aedion and Lysandra remain the last line of defense to protect Terrasen from utter destruction. Yet they soon realize that the many allies they've gathered to battle Erawan's hordes might not be enough to save them. Scattered across the continent and racing against time, Chaol, Manon, and Dorian are forced to forge their own paths to meet their fates. Hanging in the balance is any hope of salvation―and a better world.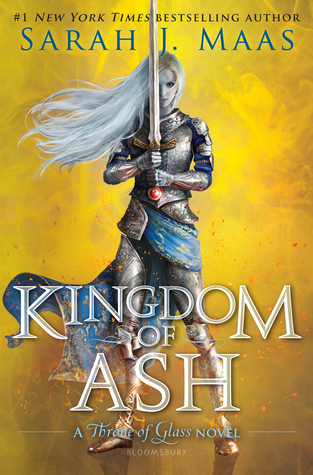 Review: This one was interesting for me. There were instances that I loved and then there were instances that I didn't really love. Let's start with what I didn't like so much:
It took too long for all the characters to get back together, while their reunions were amazing, I felt like I was reading just to see that happen and it took too long
With that — some of the story dragged on. I wanted to see characters together, wars together but instead there were too many different scenes
While I do enjoy different settings, I felt like there were too many. While this could be considered realistic during a time of war it wasn't what I was expecting
Now on to what I loved:

I felt like this was one or Maas' best books ever and so much better than A Court of Wings and Ruin
Chaol and Lorcan "sigh" (love them both)

Spoilers: The female characters in this one really kick some butt
I had some real emotions reading this story, at one point I was in tears. When a book can do that, it means it must have some pretty amazing scenes
I felt really really satisfied with the ending of this story. I can't help it you guys, it was what I expected and wanted to see and it really didn't disappoint
Sort of a Spoiler: I love how something said in Assassin's Blade came true in Kingdom of Ash

All in all I found this story the perfect finale to the Throne of Glass Series. I was really satisfied and while I had some things I didn't love, it couldn't bring me down overall with this book and it's series in its entirety. In fact, by the end of the story, I couldn't really remember what I wasn't a fan of (good thing I took some notes)! It's definitely a must read and I can't wait to see what Sarah J. Maas has in store for us soon!
Overall Rating: 5/5 stars